SLIDE & CARRY SYSTEMS
Slide & Carry is a VOSA friendly, DVSA approved load securing system that is not only easy to use but provides safety to the operator and other road users.  These are primarily used in the commercial vehicle industry that allows easy access to securing restraints and can be fitted to either new or old trailers. They are designed to secure all levels of cargo to the bed of the trailer quickly and easily from the ground maintaining the safety of the operator.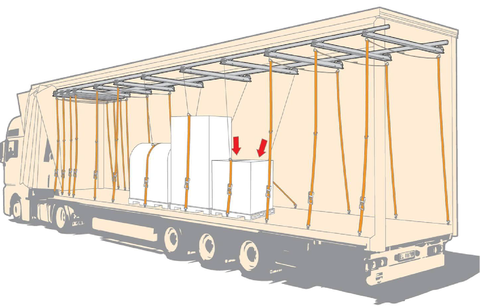 The retracting system is a combination of customised ratchet straps and net covers to suit your vehicle and load requirements. They are fitted to the roof of the trailer using a series of plastic mouldings and aluminium beams. It is designed to be used by one person. The track can be maneuvered forwards and backwards easily from the ground bringing the cargo nets over the load to be secured to the bed of the trailer.
Advantages
Installation takes just 30 minutes
The system is designed for the use of one person.
Easy to maneuver with simple sliding and fastening to reduce loading and unloading times.
The operator can remain safely on the ground at all times.
 Take a look
£1,365.00 - 13 straps including carry beam and ratcher assembly
£2,145.00 - Double deck including 26 straps
£1,850.00 - Full net system
£840.00 - 8 straps including carry beam and ratchet assembly
£995.00 - Full net system
The prices above are based on ICS tracks being present in the trailer. If tracks are present the full trailer can be installed in 30 minutes resulting in no downtime for your trucks.
Quantity discounts are available
Please call to discuss your requirements.